Southern California is full of interesting drives. These drives are for locals and we welcome tourists too.
(1) Muholland to the Pacific
Santa Monica Mountains – Cruise Mulholland in a fast car or motorcycle. Stop at Winery in the Santa Monica Mountains. Start at the Calabassas High School. Stop by the Gilette Ranch.
Stop by a Malibu Wine Safari. https://www.yelp.com/biz/malibu-wine-safaris-malibu
Stop by the Malibu Hindu Temple.
Expect to find exotic cars and bikers along the entire route.
(2) Malibu Scenery to Santa Monica, California Dreaming
Cruise Pacific Coast Hwy from Mulholland to Santa Monica Take in the beautiful beaches and crisp air. If you'd like to eat on the beach sand go to the Paradise Cove.
https://www.yelp.com/biz/paradise-cove-beach-cafe-malibu-7
For a fancy meal, eat at Nobu in Malibu. You can expect to see celebrities. Get a reservation first. Along the entire ride, you can expect to see convertibles and exotic cars.
(3) Whittier Boulevard on a Sunday Afternoon
Drive Whittier Blvd from east LA to Pico Rivera. Find good Mexican food. Look out for low-riders and bikers.
(4) The Asian 626 Valley Boulevard Drive
Drive from Monterey Park to Rosemead. Find some good Chinese food. Get boba and drive it in the car. Some of the best boa is from Half and Half.
Valley Blvd is the heart of the 626. The 626 is the mecha of pan-asian entertainment. Here's a popular video by the Fung Bros about the 626.
(5) San Gabriel Mountains Drive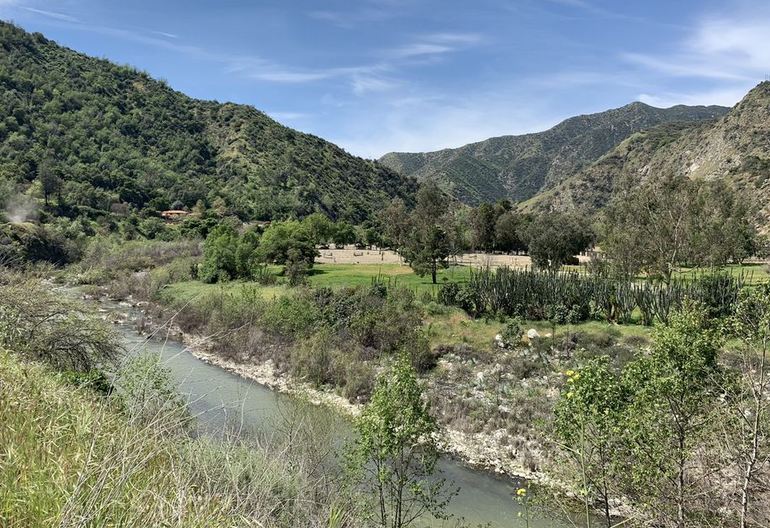 Go up Azusa Blvd into the mountains. Stop at the key river fork and check out the river. Bring a sandwich or something to eat with you. Follow route 39 up to the river. Bring a bathing suit to jump in the river.
(6) Route 66
Explore the pathway the LA before the freeways were built.
Get a strawberry donut at Donut Man in Glendora.
https://www.yelp.com/biz/the-donut-man-glendora
(7) The Palos Verdes Bluffs Scenic Drive
Drive Palos Verdes coast from Malaga Cove to San Pedro. Start your drive at the intersection of Palos Verdes Blvd and Palos Verdes Dr. North insection near Malaga Cove plaza. Take a picture at the Malaga Cove Plaza arches.
Drive all the way down Palos Verdes Dr. West to Hawthrone Blvd. Stop at the lighthouse and take pictures.
Stop at the Korean bell and take a picture.
Buy sandwiches at the Busy Bee Market. https://www.yelp.com/biz/busy-bee-market-san-pedro?osq=sandwich
Eat the Busy Bee sandwiches at the Korean Bell. Enjoy the views of the ocean and bring a kite as there is usually good wind.
Go to Abalone Cove to see the tidepools.
https://www.yelp.com/biz/abalone-cove-shoreline-park-rancho-palos-verdes
Take Vincent thomas Bridge to Long Beach. Go over 2nd bridge and look at the Queen Mary.